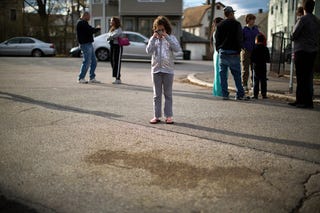 People were back on the streets in Watertown, Mass., at a spot still stained from when one of the suspects was fatally wounded.
<nyt_byline>
<nyt_text><nyt_correction_top>
WASHINGTON — The two men suspected in the Boston Marathon bombings were armed with a small arsenal of guns, ammunition and explosives when they first confronted the police early Friday, and were most likely planning more attacks, the authorities said Sunday.
United States officials said they were increasingly certain that the two suspects had acted on their own, but were looking for any hints that someone had trained or inspired them. The F.B.I. is broadening its global investigation in search of a motive and pressing the Russian government for more details about a Russian request to the F.B.I. in 2011 about one of the suspects' possible links to extremist groups, a senior United States official said Sunday.
New details about the suspects, their alleged plot and the widening inquiry emerged on Sunday, including the types of weapons that were used and the bomb design's link to a terrorist manual. Lawmakers also accused the F.B.I. of an intelligence failure, questioning whether the bureau had responded forcefully enough to Russia's warnings.
The White House said Monday that the surviving suspect, Dzhokhar Tsarnaev, would not be tried as an enemy combatant. "We will prosecute this terrorist through our civilian system of justice," said Jay Carney, the White House press secretary.
Mr. Carney noted that it was illegal to try an American citizen in a military commission, and that a number of high-profile terrorism cases were handled in the civilian court system, including that of the would-be bomber who tried to bring down a passenger jet around Christmas 2009 with explosives in his underwear.
Mr. Carney said the government had gotten "valuable intelligence" from suspects kept in the civilian judicial process. "The system has repeatedly proven it can handle" such cases, he said.
Mr. Tsarnaev, 19, remained in a Boston hospital in serious condition. The authorities said they believed that he had tried to kill himself, because a gunshot wound to his neck "had the appearance of a close-range, self-inflicted style," the senior United States official said.
As investigators intensified their search for clues, the investigation's focus shifted in the last two days from a manhunt that relied heavily on cutting-edge surveillance technology to help track down the suspects to more traditional investigative methods. Those approaches include interviews with friends, relatives and others who knew the suspects and examinations of computers, phones, writings and their possessions.
More details of what the authorities said was the original plot were becoming clearer. The Boston police commissioner, Edward Davis, said the authorities believed that Mr. Tsarnaev and his older brother, Tamerlan, 26, had planned more attacks beyond the bombings at the finish line of the Boston Marathon, which killed three people and wounded more than 170. When the suspects seized a Mercedes-Benz sport utility vehicle and held the driver hostage, they told him that they planned to head to New York, the senior United States official said Sunday.
It was not clear whether the suspects had told the driver what they planned to do there.
Mr. Davis told CBS News's "Face the Nation" on Sunday: "We have reason to believe, based upon the evidence that was found at that scene — the explosions, the explosive ordnance that was unexploded and the firepower that they had — that they were going to attack other individuals."
Along with determining that the suspects had made at least five pipe bombs, the authorities recovered four firearms that they believe the suspects used, according to a law enforcement official. The authorities found an M-4 carbine rifle — a weapon similar to ones used by American forces in Afghanistan — on the boat where the younger suspect was found Friday night in Watertown, Mass., 10 miles west of Boston.
<nyt_author_id score="-5.0"> <nyt_correction_bottom score="7.5"> <nyt_update_bottom>
Reporting was contributed by Marc Santora, William K. Rashbaum and Ethan Bronner from New York; Brian Knowlton and Charlie Savage from Washington; and Emmarie Huetteman from Montgomery Village, Md.
---
<nyt_text><nyt_correction_top>
Two handguns and a BB gun that the authorities believe the brothers used in an earlier shootout with officers in Watertown were also recovered, said one official briefed on the investigation. The authorities said they believe the suspects had fired roughly 80 rounds in that shootout, in which Tamerlan Tsarnaev was fatally wounded, the official said.
Among the unanswered questions facing investigators are where the suspects acquired their weapons and explosives, how they got the money to pay for them, and whether others helped plan and carry out the attack last Monday. Mayor Thomas M. Menino of Boston said he believed the brothers were not affiliated with a larger network. "All of the information that I have, they acted alone, these two individuals, the brothers," he said on ABC News's "This Week."
Some investigators said they believe the suspects used a design for the pressure-cooker bombs they allegedly detonated from a manual published in the online English-language magazine of Al Qaeda's affiliate in Yemen. Mr. Menino said Tamerlan had "brainwashed" his younger brother to follow him and "read those magazines that were published on how to create bombs, how to disrupt the general public, and things like that."
The suspects' uncle Ruslan Tsarni, who lives in Maryland, said in an interview on Sunday that he had first noticed a change in the older brother in 2009. Mr. Tsarni sought advice from a family friend, who told him that Tamerlan's radicalization had begun after he met a recent convert to Islam in the Boston area. Mr. Tsarni said he had later learned from a relative that his nephew had met the convert in 2007.
As scrutiny increased on how the brothers had been radicalized, Representative Michael McCaul, a Texas Republican who heads the Homeland Security Committee, and Representative Peter T. King, a New York Republican on the panel, sent a letter to the directors of three of the nation's leading intelligence-gathering agencies calling the F.B.I.'s handling of the case "an intelligence failure."
They said Tamerlan Tsarnaev was the fifth man since the Sept. 11, 2001, attacks to be suspected of committing terrorism while under investigation by the bureau. Agents had questioned him in 2011 in response to a request from the Russian government, a year before he traveled to Chechnya and Dagestan, predominantly Muslim republics in the North Caucasus region of Russia. Both have been hotbeds of militant separatists.
The request from the Russian government was directed to the F.B.I.'s legal attaché at the American Embassy in Moscow in January 2011, a senior United States official said. Tamerlan spent six months in Chechnya and Dagestan in 2012.
The Russians feared Tamerlan could be a risk, and said their request was "based on information that he was a follower of radical Islam and a strong believer, and that he had changed drastically since 2010 as he prepared to leave the United States for travel to the country's region to join unspecified underground groups," the F.B.I. said in a statement Friday.
A senior United States official said Sunday that despite requests from American officials for more details at the time, this was all the information the Russians provided.
The F.B.I. responded by checking "U.S. government databases and other information to look for such things as derogatory telephone communications, possible use of online sites associated with the promotion of radical activity, associations with other persons of interest, travel history and plans, and education history," it said in the statement.
The bureau sent two counterterrorism agents from its Boston field office to interview Tamerlan and family members, a senior United States official said Saturday.
According to the F.B.I.'s statement, "The F.B.I. did not find any terrorism activity, domestic or foreign," and conveyed those findings to "the foreign government" — which officials say was Russia — by the summer of 2011.
<nyt_author_id score="-5.0"> <nyt_correction_bottom score="7.5"> <nyt_update_bottom>
Reporting was contributed by Marc Santora, William K. Rashbaum and Ethan Bronner from New York; Brian Knowlton and Charlie Savage from Washington; and Emmarie Huetteman from Montgomery Village, Md.
---
<nyt_text><nyt_correction_top>
Representative Mike Rogers, a Michigan Republican and former F.B.I. agent who heads the House Intelligence Committee, defended the bureau, saying on NBC's "Meet the Press" that it "did a very thorough job." But on CNN's "State of the Union," Senator Lindsey Graham, Republican of South Carolina, said: "The fact that we could not track him has to be fixed. It's people like this that you don't want to let out of your sight, and this was a mistake. I don't know if our laws are insufficient or the F.B.I. failed, but we're at war with radical Islamists, and we need to up our game."
The F.B.I. has pressed Russian authorities for more details about Moscow's original request on Tamerlan, as well as any information the Russian intelligence services have developed since then, according to a senior United States official.
These discussions are "sensitive," the official said, because of the differences in protocol and laws between the two countries, and the Russians' reluctance to disclose confidential intelligence to foreign governments.
Tensions also escalated Sunday over how to handle the case of the surviving suspect. Some Republican lawmakers want President Obama to declare Dzhokhar Tsarnaev an "enemy combatant," putting him into military detention and questioning him at length without a lawyer.
But the administration has said terrorism suspects arrested inside the United States should be handled exclusively in the criminal justice system, and gave no sign it intends to do otherwise in Mr. Tsarnaev's case. Moreover, there is no evidence suggesting that he is part of Al Qaeda; the United States is engaged in an armed conflict with Al Qaeda, not all Muslim extremists.
In the days after the bombing, analysts and agents for the F.B.I. used special video technology that allowed them to string together hours and hours of footage and to enhance the quality.
They will now begin to employ more conventional techniques. As prosecutors worked to complete the criminal complaint against Mr. Tsarnaev, hundreds of police detectives and F.B.I. agents — including members of the Joint Terrorism Task Force in Boston, plus nearly 250 agents from 24 of the F.B.I.'s 56 field offices — continued to work on the investigation, officials said.
Their efforts included analyzing records from the brothers' phones and computers, to find associates and witnesses and extremist group affiliations. The agents also scoured credit card records and other material seized from their apartment and car for evidence of bomb components, the backpacks used or any other evidence that could tie them to the bombings.
<nyt_author_id score="-5.0"> <nyt_correction_bottom score="7.5"> <nyt_update_bottom>
Reporting was contributed by Marc Santora, William K. Rashbaum and Ethan Bronner from New York; Brian Knowlton and Charlie Savage from Washington; and Emmarie Huetteman from Montgomery Village, Md.